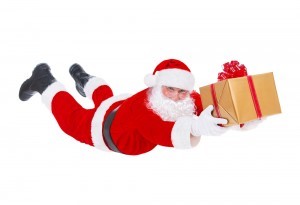 Dear old Santa Claus has had to make yet another trip to the hospital! He's doing well and, true to his generous nature, is sharing his records with one and all.
PATIENT NAME: CLAUS, NICHOLAS "SANTA"
DATE OF BIRTH: 12/25/0270
DATE OF SERVICE: December 12, 2016
CHIEF COMPLAINT: Ankle pain
HISTORY OF PRESENT ILLNESS: The patient is a pleasant 1,745-year-old gentleman who was taking part in practice exercises today for his job. He runs a toy factory and is the main delivery driver. One hour prior to presentation, he states he was going up a chimney, coughed from the smoke when he reached the top, slipped and fell from a low rooftop that extended to within a foot of the ground, landing awkwardly, hit his mouth, cut his lip and broke his tooth. He is unable to chew and has had bleeding from a cut. No other injuries noted from the fall. He states he has not had injuries to his mouth. No complaints from the smoke inhalation.
PAST MEDICAL HISTORY:
Patient diagnosed with mild Christmas disease last year during a visit to Mt Christmas Hospital. Patient claims he wrote a letter to himself asking for the tooth fairy to visit after the Christmas Rush. Patient reports a history of seasonal allergies but does not take medication because he fears becoming drowsy when he works the night shift. Multiple experiences with frostbite of the fingers with no late effects noted. History of pipe smoking. Patient reports no known allergies to medications, but artificial sweetener intake results in rosy cheeks.
SOCIAL HISTORY:
Drinks rarely, but loves a cold glass of milk. He developed a love for homemade cookies and has tried hard to curb that want. Lives with his wife in a small village founded to house the toy company's employees and reindeer mascots.
REVIEW OF SYSTEMS:
General: Patient reports recent weight gain. HEENT: Patient states he has been spending many hours speaking with children recently, leading to some hoarseness. GI: Possible recent development of lactose intolerance.His recent fall has developed a fat lip, that hurts and prevents him from speaking without pain. His teeth are loose and one is no longer in his mouth.
PHYSICAL EXAMINATION:
Vital signs: Temperature 98.6, pulse 70, pulse oximetry 100% on room air, blood pressure 12/25, the patient presented a laminated card from his regular physician, Dr.Silent Night, indicating that the specified blood pressure is normal for the patient and has not affected the patient's health.
General: Well-developed, overly well-nourished male who appears jolly and in no acute distress, except he will not be able to eat those cookies.
MEDICAL DECISION MAKING:
An x-ray of this gentleman's oral cavity has shown loose teeth and missing tooth number 7. He has a fat lip that will heal but should have an antibiotic cream to make sure he does not get infection or bleeds on his beard. X-ray showed a fracture of tooth 8, missing tooth 7 with 6 lower teeth that are loose to touch.
ASSESSMENT:
Loose teeth on lower, missing tooth 7, and fracture on tooth 8
PLAN:
The patient declined pain medication but agrees to have a fractured tooth removed and number 7&8 replaced with implants. The lower will be splinted to stabilize them while they heal.
DISCHARGE: Bring Presents to Christine Taxin, Laurie Owens, Kim Pajack, Dr. Paul Taxin, Jan Palmer, and the entire team at Links2Success
W13.2XXA - Fall from, out of or through roof, initial encounter
S02.5XXA - Fracture of tooth (traumatic), initial encounter for closed fracture broken tooth
S03.2XXA - Dislocation of tooth, initial encounter
T18.0XXA - Foreign body in mouth, initial encounter